At Learn Quran Kids, our primary focus is teaching Quran for young kids. This is because this is the prime age when your kids are most receptive to learn new knowledge. 
Remember, learning Quran is critical for your kid's future! At the end, you'll be questioned about the upbringing of your kids – save your kid's by getting them proper Quranic education, whether it is us or some one else it doesn't matter!!!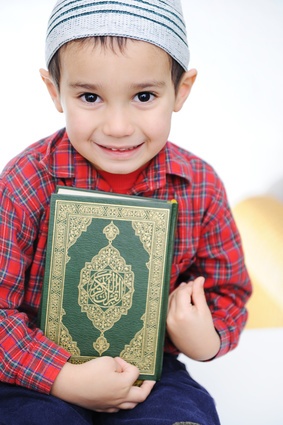 Quran for Kids and its Importance
Now is the time to raise your kids like Muslims kids, give them the blessing of Quran and lay the foundation of a good Muslim or Muslimah!!! Reading Quran, learning Quran and being able to understand Quran are the first steps highly needed to enable your kids to be able to teach Quran. Quran is the biggest miracle of Holy Prophet Muhammad (ﷺ) – a person unable to recite and understand Quran, is far from getting blessing from Allah (ﷺ) and properly understanding the underlying message of Muhammad (ﷺ).
How Learn Quran Kids Helps in Learning Quran
Learn Quran Kids is a big project – aimed at creating a learning organism, where kids learn Quran in many different ways, which most definitely include sensory learning. We make it easy for your kids to learn Quran online with our handful of courses designed around a Muslim child's basic Quran learning needs.
We have highly qualified and attested Huffaaz and Tajweed experts. Teaching Quran with Tajweed is our main aim, and to see it to fruition, we leave no stone unturned. We position ourselves as a professional Quran learning source for overseas Muslims who cannot find Quran tutors anywhere near them to make sure that their kids get proper learning experience of Quran. We do not judge ourselves on the base of the kind of happy clients that we have and whose success stories you can read, but on the base of the fewer complaints that we get. Our staff is comprised of experienced teachers, who have been in this field for years.
Online Quran Learning Courses
Online Quran learning has been a big trend for so many years – in our busy urban life we do not have enough time to assure a traditional or physical learning of Quran. Plus, there are those brothers and sisters who live abroad – in non-Muslim countries – and they cannot give the gift of Quranic learning to their kids.

Online Quran learning resolves both of these issues and this is the reason why online learning has been such a big trend – and our courses encapsulate all aspects of learning Quran online. Take a look at the courses:
Course 1 – Learn Quran with Tajweed for Kids

Course 2 – Learn Quran Translation for Kids

Course 3 – Learn Quran Memorization for Kids
Customization & Flexibility
We respect diversity and we know that our clients have a very diverse kind of learning needs. There are people who live abroad so prefer a teacher who can speak English for their kid's Quran learning needs and there are those who need online Quran teachers who can speak Arabic or Urdu.

On our panel we have teachers who are multilingual; they can speak Arabic, Urdu and English with full command. However, when it comes to customization and flexibility, it is not only in terms of the languages that our teachers can speak, but also in terms of the kind of teaching that our clients require.
There are people who love their kids to start learning from Tajweed and then there are those who would like to have their kids commit for Hifz – they want their kids to go from Tajweed to Memorization of Quran in a few years. Then there are parents who want a Quran translation teacher for their kids – because a Hadith of Prophet Muhammad (SAW) declares that best kind of Muslims are those who understand the Quran and teach it.

We designed our courses around all kinds of Quran learning expectations; we assure flexibility in the way you pick courses and choose the best teacher as per your unique requirements. We allow you to customize the set of courses that better resonates with your kids unique learning requirements.
Our promise is not to make your kid an aalim within a few months – our promise is to make it easier for the kids to learn Quran. Our Quran for kids course is 100% foolproof because of our 3-days trial and money-back guarantee. We assure you that your kids will get high quality Quranic education and feel at home – away from home.
Imagine:
At the end of the course your kid reciting Quran without stuttering

Your kids knowing how to recite Quran without mistakes

Your kids having memorized Quran by heart, or

Your kids being able to translate the Quran, understand Arabic and have a better understanding of Arabic lexicon
All you have to do, is to pick the course that you want the most for your Muslim kids or the combination of courses that you want to start with and go for a 3-days trial. If everything is covered by a 3-day trial and 30 to 60-days money-back warranty, as per the case, what is there to stop you from getting expertly devised Quranic teaching for your kids?
Not only our customers reflect trust in our services, but we ourselves know the blood, sweat and tears that we invested in designing our online Quran learning courses and making a team of teachers that always win great reviews for their teaching.
We have been into this line of work and blessings for many years now, and we have carefully crafted our courses and modules.
This is why we offer a free trial of 3 days – yes, 3 days!
For 3 days you can test a required course and tell us how you liked it. In the event of your disapproving the course, we will not charge you a single penny. As a matter of fact, we're so confident in our online Quran learning courses, that we offer a no questions asked and no strings attached 60-days, money-back guarantee.
This means that even if you continue with us after the trial period, and you are not satisfied with the quality of teaching, we will be bound to refund your money with in 60 days of course initiation.