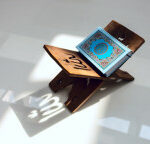 'Learn Quran Kids' is among the group of websites providing the best online Quran classes. We are dedicated to teach kids and adults the correct way of reading Quran in their comfort of their own homes using latest communication technologies like Skype, Gotomeeting and Zoom using 1-1 sessions.
How are the classes conducted?
The classes are conducted in a highly sophisticated manner. Some basic rules are:
At no time the Quran tutor can scold the student.

If the student is not cooperating, the tutor might have a word with their parents.

If the student clears a lesson, only then new lessons are given.

At no time students are rushed to clear the lesson.

Mistakes are identified at the spot and till they are rectified the student is not given a new lesson.

We believe in the motto "Slow and Steady Wins the Race"
Not sure which online Quran teaching service to choose from?
Don't be confused. Simply check for the following:
Are they punctual?

Are they flexible in timings?

Did their Free Trial service satisfied you?

Are they less expensive as compared to others?

Have your teaching service mentions the details about their tutors?

Seek suggestions from your family, friends, relatives about them. Did they had good experience as well?
If the answers to the above is yes then go for it. Still confused? Simply for an istikhara :).
How would the online class take place and what do I require?
All you need is a:
Computer with Mic

Internet Connection

Skype – Click this link to install Skype [skype-status]
Simply register for a free trial from our website and one of our representative will contact you.
What payment methods do you accept?
We accept payment via debit card / credit card, western union, bank transfer & paypal. Once you agree to let us teach your kid, we will guide you on how to proceed with the payment.
I can't afford to pay, will you still teach me?
Yes. If you can't afford to pay any of the fee, we will still teach you. Just mention this in the Free Trial form and the reason why you can't afford. What ever you write there we will trust you.
What if I am online while the online Quran tutor is not?
Hopefully this will not happen. In a unlikely event simply use this skype link [skype-status] and one of our support representative will help you to connect to your tutor. If the Quran tutor misses the class then we will give you a backup class.
Yes, see our Pricing page for details.
What if I don't want to continue?
It is totally your choice to keep continuing or drop. Just have a Skype session with our supervisor and explain the details. If it is due to us you are leaving, we will try our level best to overcome the situation.
What do I need in my class?
Just be at the class on time and ensure that your computer and internet connection is working fine. It is recommended that you have done wudu.
Do you have qualified female tutors?
Yes. We understand that for a certain age group of students, female Qariyah suites better. Just mention this in the Free Trial form. See more details at female Quran tutors.
Enroll free to Start Reading Quran